For the second time in a row - Best Offshore Windpark 2020
05 Oct 2021 - Veja Mate
On August 27, 2021, the Veja Mate Offshore Wind project was named "Best Offshore Wind Power Plant in Operation" for the second consecutive year. The award was presented at the 10th Offshore Economic Forum on Helgoland.
Stefan Klett, Managing Director of Veja Mate Offshore Project GmbH, expresses his gratitude for the award with great pleasure.
"We are very proud to receive the award for the second time in a row as a confirmation of our daily hard work. Following our strategic and operational concept, we will continue to fully manage and continuously develop the 402 MW asset to achieve the best possible results for us and our partners. At this point a very special thank goes to the Veja Mate Team for their outstanding performance. With pleasure in dealing with new challenges and success, we continue to work on your solutions for offshore wind." said Stefan Klett.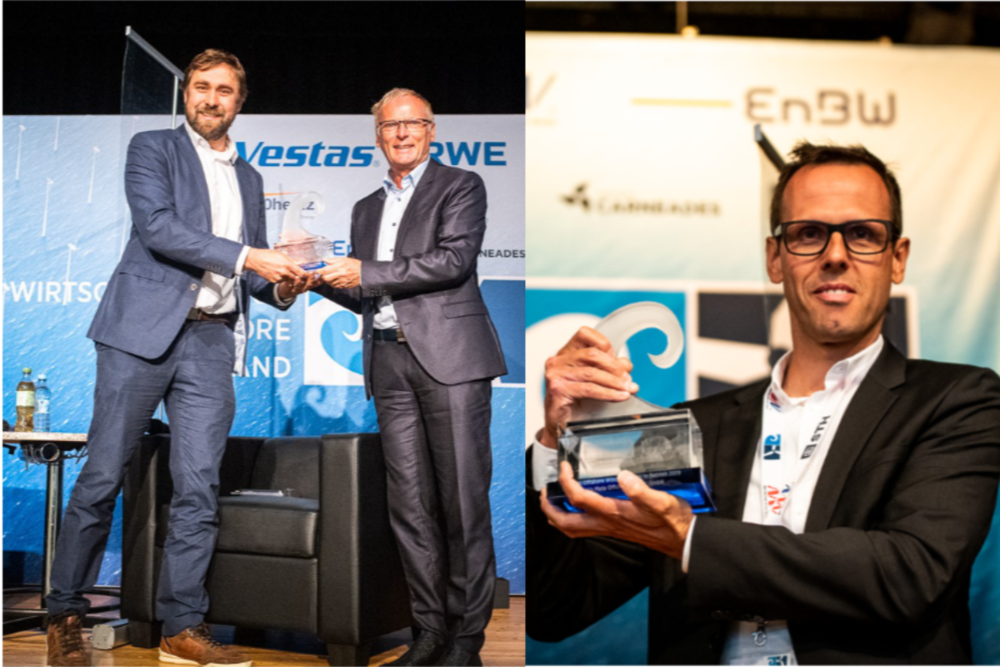 (Left: Mr. David Voss received on August 27, 2021 the award on Helgoland on behalf of Veja Mate Right: August 28, 2020, Stefan Klett, Managing Director at the 2020 award ceremony of the Offshore Economic Forum)
About Veja Mate Offshore Project GmbH:
Veja Mate is a 402 MW, 1,9 bn EUR offshore wind project owned by the VM Offshore Beteiligungsgesellschaft mbH. The wind farm is located about 95 km NW from Borkum Island and is producing over 1,6 TWh of green, renewable electricity annually.
For more information, contact pr@vejamate.de or visit our website at www.vejamate.de
---